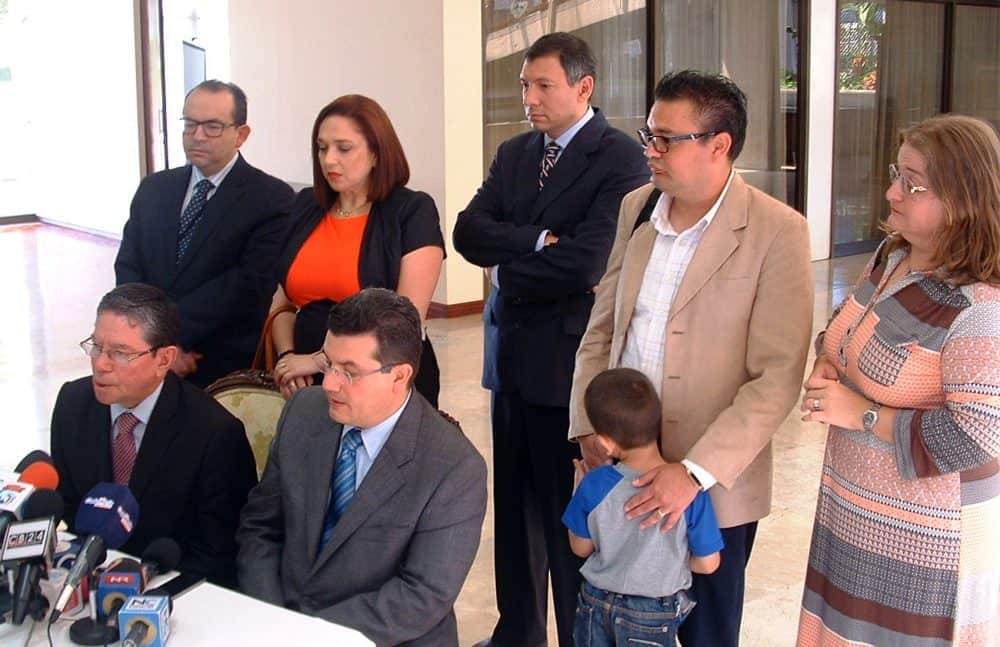 Couples who want Costa Rica's IVF ban lifted in a meeting last year with President Luis Guillermo Solís
In most countries, IVF is a fact of life, even if it is constantly caught up in controversy. However, in the Central American nation of Costa Rica, it has been banned since 2000. And four years after an international court ordered Costa Rica to lift the ban, the country's legislature and courts are still successfully stalling.
The Inter-American Court of Human Rights (IACHR) ruled in 2012 that lack of access to IVF infringed a right to private and family life. However, Costa Rica's constitution says that life begins at conception and IVF is criticised because it involves wastage of embryos. The constitutional court banned it in 2000 for that reason.
So IVF has become a political football.
Last year President Luis Guillermo Solís signed a decree to legalise IVF but the constitutional court annulled it, arguing that IVF should be regulated by law and not by presidential decree. Now the IACHR has ruled that a presidential decree is sufficient.
The president is under pressure from six couples who sued Costa Rica after the constitutional court's decision in 2000. They say that they can no longer wait, as their fertility is waning.
This article is published by Michael Cook and BioEdge under a Creative Commons licence. You may republish it or translate it free of charge with attribution for non-commercial purposes following
these guidelines
. If you teach at a university we ask that your department make a donation. Commercial media must
contact us
for permission and fees.
The views, opinions and positions expressed by these authors and blogs are theirs and do not necessarily represent that of the Bioethics Research Library and Kennedy Institute of Ethics or Georgetown University.